Get the kitchen of your dreams with our huge selection of stone slabs for countertops, islands, and backsplashes.
If your kitchen isn't serving you as well as you'd like, remodeling can make a dramatic improvement. Although there are many things to consider with a kitchen remodeling project, one of the most important factors is what material you will use for the hard surfaces like countertops, bartops, islands, and backsplashes. These features should look good and be made from a material that will perform well for years while still making an attractive addition to your kitchen. In our opinion (and most people's, if we're honest), there's no better option than stone.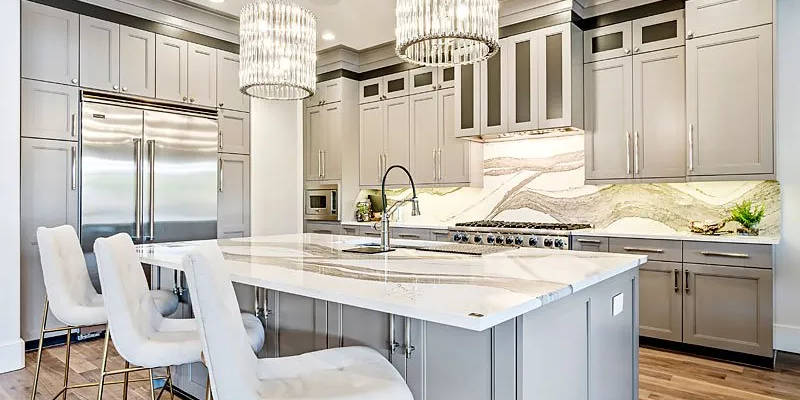 At Rolling Stone Granite Tennessee, we can help you find the right stone slab to suit any of the following kitchen remodeling projects:
Countertops – As a leading stone countertop fabricator, we have extensive experience helping customers choose the right stone slab countertop for their kitchen. We have a vast array of marble, granite, quartz, and quartzite slabs available in our showroom, so you're sure to find something you'll love and get tons of use out of.
Islands – One of the most common reasons for kitchen remodeling is a need for more space than what's provided in the current layout. Adding an island can dramatically increase the storage and preparation space in a kitchen. It can also provide extra seating if you opt for an island with a bar area.
Backsplashes – Adding a backsplash during your kitchen remodeling project is a great way to keep the walls behind your cooking and food preparation spaces looking good. Backsplashes help protect the walls from spatter and buildup, and they can also be a great way to add color or texture.
For more information on our kitchen remodeling services, contact our office at your convenience. We're proud to serve Huntsville, Alabama customers, and we look forward to working with you!
---
At Rolling Stone Granite Tennessee, we offer kitchen remodeling services in Chattanooga, Cleveland, Knoxville, Winchester, Tullahoma, Oakridge, Dayton, and Maryville, Tennessee; Decatur, Huntsville, Scottsboro, and Fort Payne, Alabama; and Rome, Dalton, Calhoun, Marietta, and Athens, Georgia.