Check out our professional commercial bathroom remodeling services.
A commercial bathroom remodeling project requires a lot more oversight compared to a residential bathroom renovation. If you're thinking about updating your commercial bathroom, here's what our team of experts at Rolling Stone Granite Tennessee recommend: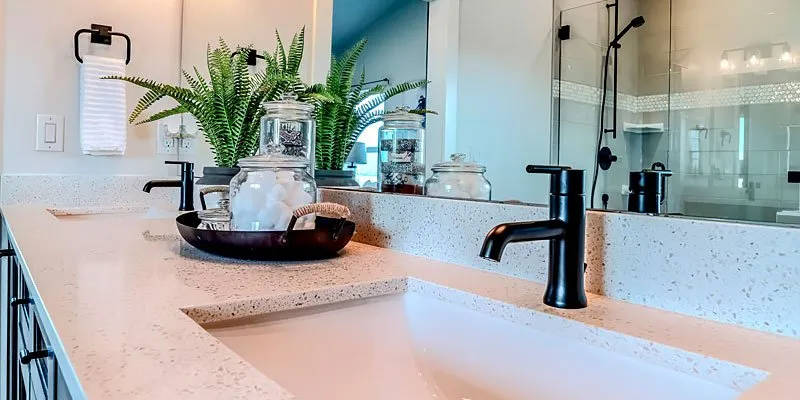 Remember to be compliant with the ADA. The Americans with Disabilities Act (ADA) requires business owners to ensure that their facilities are accessible to everyone. This includes having at least one wheelchair-accessible stall in multi-user bathrooms, handles and dispensers that can be operated with one hand, and other requirements.
Get the right permits before you begin. In Tennessee, all plumbing and electrical jobs must be approved with a permit. If you plan on taking out a wall or expanding the space of a bathroom, you'll need to get another permit for that, too.
Find ways to save energy and reduce waste. A commercial bathroom remodeling project is a great opportunity for your business to switch to eco-friendlier solutions. You can consider installing natural stone countertops, choosing sinks and toilets that save water, and air dryers to cut down on paper towel waste.
Understand the remodeling process before bringing contractors on board. With major commercial bathroom remodeling jobs, things can get loud and messy for several days or weeks, depending on the size and scope of your project. Make sure your employees and customers will have access to another bathroom if your business stays open during renovation.

At Rolling Stone Granite Tennessee, we're excited for the opportunity to serve families and businesses in and around Chattanooga, Tennessee. If you're searching for the perfect materials for your remodeling project or the right contractors for a renovation job, we'd love to hear from you. Reach out to us online or call us for more information!
---
At Rolling Stone Granite Tennessee, we offer commercial bathroom remodeling services in Chattanooga, Cleveland, Knoxville, Winchester, Tullahoma, Oakridge, Dayton, and Maryville, Tennessee; Decatur, Huntsville, Scottsboro, and Fort Payne, Alabama; and Rome, Dalton, Calhoun, Marietta, and Athens, Georgia.