Experience the unique beauty of our quartz showroom.
If you're thinking about upgrading your home in Huntsville, Alabama, with quartz countertops, we welcome you to visit our quartz showroom! Our vast inventory includes several quartz samples for you to look through before selecting the perfect option for your kitchen or bathroom.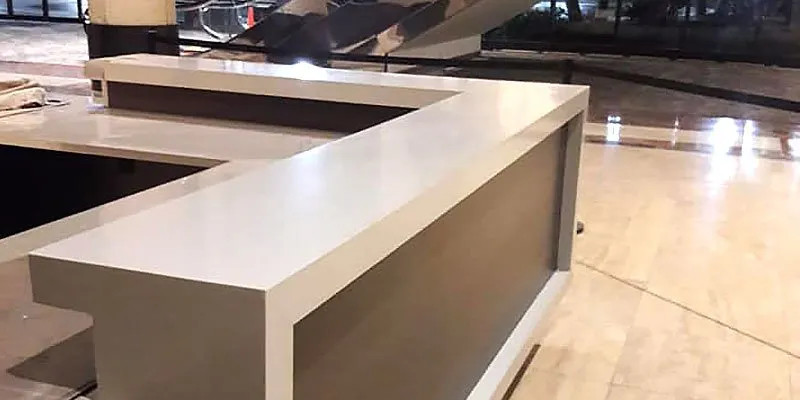 In case you need a little extra guidance, our experts at Rolling Stone Granite Tennessee are here to help. We can walk you through our quartz showroom, explain the benefits of selecting quartz countertops over other materials, and help you finalize your renovation budget.
If you'd like a little more information before visiting us in person, here are some key things to know about quartz countertops:
Quartz is a man-made material. This makes it incredibly strong, durable, and resistant to fading over time. It's also engineered to be a bit more flexible than other stones, which can make it easier to install and maintain over time.
Quartz is nonporous. Natural materials, such as granite or quartzite, have to be sealed regularly to prevent the porous stones from absorbing liquids. Since quartz is engineered to be highly durable, it's nonporous, meaning you won't have to worry about spills ruining the look of your countertops.
Quartz is easy to clean and maintain. Quartz never needs to be sealed or polished, and its naturally smooth surface makes cleaning a breeze. It's also resistant to stains and scratches, so it will look brand-new for years to come.
Whether you'd like more information about our quartz showroom or you want to get a professional quote for your project, please don't hesitate to reach out to us!
---
At Rolling Stone Granite Tennessee, our quartz showroom serves visitors from Chattanooga, Cleveland, Knoxville, Winchester, Tullahoma, Oakridge, Dayton, and Maryville, Tennessee; Decatur, Huntsville, Scottsboro, and Fort Payne, Alabama; and Rome, Dalton, Calhoun, Marietta, and Athens, Georgia.